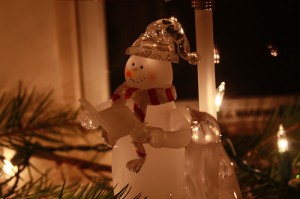 Since our last roundup, we've eaten a lot of turkey, watched a lot of football, and spent some valuable time with the family. Now that Thanksgiving is in the rear view mirror, it's time for online businesses to get their houses in order for the upcoming holiday season as well for a new year. Based on Forrester research from last month, Facebook may not be the best place to focus your efforts, but we've found a number of posts that should get you going in the right direction. These are the most relevant articles from the fields of SEO, content marketing, and social media in November. Enjoy! If you're looking for the same great content the rest of the year, don't forget to check in with us on Twitter, Facebook, and Google+.
SEO
Every business that competes in a local market and who competes for the display of localized results in SERPs will likely find the need to conduct a local SEO audit at some point.
As should be the case with any SEO professionals, we're constantly on the lookout for new information and ideas that can aid us in helping our clients improve their results. While at a recent event, we had the luxury of speaking with Google Webmaster Trends Analyst Pierre Far.
Great marketers are always on their toes, keeping up with the news, anticipating and adapting changes as they happen.
Yahoo and Mozilla just announced a "strategic five-year partnership that makes Yahoo the default search experience for Firefox in the United States on mobile and desktop."
SEO is only one way to get your content found, but it's essential for content marketers to understand the basic principles. During Content Marketing World, Stephan Spencer, co-author of The Art of SEO, shared nine common mistakes you should avoid.
Everybody talks about the need to provide quality content on your site if you want to rank well in searches. But how do search engines identify quality content?
SEO is constantly changing. New updates are released, new trends are discussed and new strategies are developed. It is something that will constantly evolve.
BuzzFeed may already be king when it comes to getting people to share its posts, but that's not stopping it from continually trying new things. Now, BuzzFeed has even tapped the humble URL to work harder. The social publisher has discovered that writing original, made-for-sharing URLs can act like a rocket booster for a post.
Content Marketing
The year 2015 is nearly upon us, and every marketing department is forecasting and planning how to make a new splash next year. How is your SEO strategy looking?
Here, at BuzzSumo we obsess a lot about outreach, and we know a lot of inbound marketers do as well. The benefits of tapping into major influencers and communities is obvious: they help spread your content/brand to a wider audience.
Do you want to share stronger visuals? Have you looked at what other content creators are doing? Watching what works for others in your industry can help you create content that increases engagement with your own audience.
When you're creating useful, actionable, epic content, everyone deserves to see it. So how do you get your hard work and effort seen by the largest audience possible?
What's the profile of a modern, best-in-class content marketer? By modern I mean someone who is using new tools and resources (social media, video and data) in concert with traditional marketing programs. And by best in class I mean someone who is driving real results.
Social Media
Quicksprout recently published an awesome new infographic on the state of SEO that illustrates how the field has evolved over the past few years in response to Google's game-changing algorithm updates and the steady rise of content as king.
Because of low reach and engagement on the major social networks, report suggests that brands should build their own communities and leverage other social sites.
Social Media ROI may seem elusive but there are specific steps you can take to leverage the medium without going broke. Marketing to generate leads for any business today requires a holistic approach that includes SEO, content (blog), Social Media and Social advertising.
Effective content is writing that engages, entertains, and – most of all – achieves your business goals. First, what is effective content?
How can brands convert social content into sales? Here are some tips for getting you started. Build a library of user-generated content, suggests Offerpop in the following infographic. Such content might include photos and videos of purchases.
This month what better way to celebrate the upcoming holidays than to leave you with Minions singing Jingle Bells.

Image: Flickr/Family O'Abé